Experience Rock Climbing in Jasper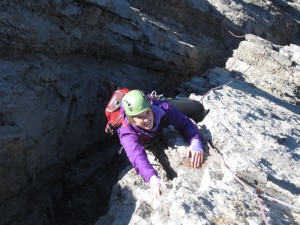 This 4 hour tour begins at our office in Jasper and travels a short distance to a perfect limestone wall next to the Athabasca river – Morro Slabs.
Once at the site, you will receive some instruction on gear and techniques, then our guides will coach you as you rappel or are lowered to the bottom of wall. Next?..we climb it!
Trips run daily from May 1 to August 31.
Time: 9am – 1 pm
An afternoon trip (2pm – 6pm) may be scheduled if the morning trip fills up
$125/person. Includes all gear
All trips leave from the Rockaboo office (610 Patricia Street – upstairs). We ask participants to be ready to depart at the start time – we want to climb, not sit around the office!
This trip is suitable for ages 8 – 55+ with reasonable fitness. (Reasonable fitness is defined as the ability to climb a ladder, go for a short run or hike, and/or play a game of soccer)

No previous climbing experience necessary, but is always welcome

Maximum group size of 6 – a safe and fun ratio

All climbing gear and transportation included

Friendly local guides
See you on the rock!