Rockaboo Team Building Series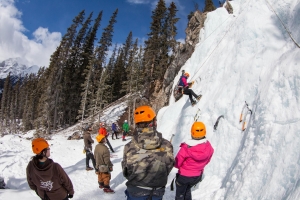 At Rockaboo, we take Team Building to a whole new level! Our staff will lead your team into a spectacular, natural setting where you will bond through a series of exciting activities designed for all levels and abilities. We believe that challenges in a mountain environment build strong, ever-lasting, positive relationships with team members. Your staff will be raving about this experience for years to come!
Upon consultation, we will customize your 1 or 2-day program to suit your organizational needs. You may choose from several outdoor activities based on your teams fitness level. Activities include hiking, zip-lining, rappelling, rock climbing, ice climbing, skiing and glacier walking. We combine outdoor adventure with a highly effective speaker series that ensures your team leaves feeling inspired, revitalized and with purpose.
Fitness levels may range from Beginner to Intermediate
Activities are available all year round however they do change with the season
Group rates apply
All gear and transport provided
No experience necessary